Our forth year on the land
From Organic Design wiki
At the end of 2011 on the
11th of November
we moved to
Brazil
and bought some
land
to set up a more
independent
and
meditative
lifestyle. We started in a
flat in Curitiba
, then about a year later
moved to Canela
which is the closest town to the land.
Posted by Nad on 09 February 2016 at 13:20
Wow that year sped past in a flash! We've just got back from Brasília where we stayed with Beth's parents for a couple of months for Christmas and New Years. It's always good to catch up with the family and spend time with them, but we have to remember in future not to be away from our land for too long because we start really missing the peace and tranquillity of have natural forest all around us. We have another three months away soon too because we're visiting New Zealand, but after we get back we plan on spending some really solid time here!

One interesting thing that we did in Brasília was to do some bike Mechanic lessons with Beth's friend Danielson. This was mainly for Beth because she felt very unconfident about fixing anything mechanically on the bikes, but it's made me more confident too because there were some things I didn't really understand too such as the gear adjustment mechanism. He took us through assembling a bike completely from scratch and now Beth feels really confident to fix anything on our bikes :-)

Remember the Habanero source that was too hot to handle? Well shortly after it was made I put two olives in the bottle, one for me and one for Beth's dad, the challenge was that on the last day of out visit, we would both eat one of the olives! Well I ate mine, but Beth's dad cheated and spat his out!!! It was pretty hot, but luckily we had ensured that we had some ice cold beer in the freezer to cool off with :-)

We caught a plane back to Porto Alegre a couple of days ago, stayed in a hotel there then got a bus to Canela where we hired a car which we'll use for a few days while we get supplies and arrange building materials. We have to build a house over the next few weeks since they won't connect the power to our new pole unless there's a house within 40m of it (and they didn't want to put our pole close to our current house because they thought the truck would get stuck in the mud).

When we arrived, every thing was really overgrown as usual, but amongst all the tangle of weeds we found heaps of ripe tomatoes and some grapes are ready too :-) The mulberry trees that had died from the intense surprise frost last year have regrown to the size they were before, and the banana tree is looking really good too - the tiny one that cropped up next to it is pretty big now as well!

The strangest thing we saw when we arrived though was that a pumpkin vine had travelled all the way out of the vege patch straight to our door as if it specifically wanted to visit us in our house! Perhaps this is the way that home delivery works in the wild :-)
Posted by Nad on 11 February 2016 at 00:07
We made a start on the foundations for the new house today. The wood hasn't arrived yet, but we had some cold concrete and large PVC pipes lying round which we could use to get started on the foundations. We decided to use concrete and PVC instead of logs for the foundations this time to make it more bug resistant.

We only got two of the six done though as there was a lot of weed-eating to do to clear the area and clear a path to it for the truck, and we had to make a gate in the fence to let the truck through - but not the cows!
Posted by Nad on 11 February 2016 at 21:40
We took the hire car back to Canela today and then paid for all the materials for the new house which came to R$3,500 (about NZ$1,300), most of the wood is eucalyptus this time rather than pine as it's stronger and more resistant to bugs. Delivery was only about R$150 which is a really awesome price, normally it's 2-3 times more than that, but since this wood place has it's own trucks they can do a better deal. We got a ride back to the land in the truck with them.
Posted by Nad on 12 February 2016 at 21:57
We completed the foundations poles today, our third day back at the land. We wanted to get these done really early since we have to leave them for a week so the concrete is hard enough before we start putting heavy wood on top of them and hammering it. We made six foundations poles using PVC pipe filled with concrete as shown in the first image below.

Unfortunately the south-east (closest to Vladimirs place) and the north-west poles have no reinforcing - because we completely forgot about it! And the middle pipe on the south side goes all the way to the bottom of the hole, but apart from those problems all went well. We used 75Kg of cement, 150kg of sand and an extra 50kg of large stones. The cement is pretty bad quality as it's a couple of years old, and the sand too is from the river containing a fair bit of mud, so this concrete wouldn't be suitable for structure, but hopefully it'll be fine for foundations where the force is almost all downwards and it's contained within the PVC pipe to prevent it from bending if any cracks were to form in it.

Here's a picture of the completed foundation pipes and one of Beth clearing a path through the overgrown bracken from the newly delivered materials to the work area. If you click on the picture to get a bigger view you can just make out the wood and the new power pole in the distance at the end of the cleared path.
Posted by Nad on 16 February 2016 at 19:53
The concrete has only been drying for four days, but we figured as long as were careful it should be ok! So we cut three 2.7m pieces of 5x12.5 (eucalyptus comes in 5.4m lengths instead of the usual 2.7m) and drilled the holes to bolt them on. Even though I made a guide (I drilled a hole through a thick piece of wood with the drill press) to try and ensure the holes were vertical, it wasn't very accurate because the wood isn't cut very well - not only is it really bent, but it's not very square either! We had to stop early though because it started raining during our picnic break! - the house was already able to shelter us from the rain though by putting a few roofing panels over one end of the foundation :-)

We took the generator with us to the work area in a wheelbarrow so we can use power tools for cutting and drilling, but it's only powerful enough to run a jig-saw not a circular saw (although we have to test that as a lot of people think that it should run one no problem). Unfortunately the jig-saw isn't strong enough to cut the thick pieces of eucalyptus, so we have to use the slightly less accurate chain-saw for those cuts!
Posted by Nad on 17 February 2016 at 20:27
Today we got up early and got started while it was still cool, and we made some really good progress - we got the foundation finished and then got all the floor boards down as well! Then we got the base pieces for the frame bolted into place ready to start the frame proper tomorrow :-)
Posted by Nad on 18 February 2016 at 20:51
Today we got started early and went straight to work on the frame, we started by getting the two vertical 8x5's in the middle done and got the mid height horizontal 8x5's in place that will support the windows - except for the section where the door way will go. It's a whole other level of logistics to think about when you have to construct in a way that compensates for the bent wood! It hasn't worked out too badly so far, but the big test will be tomorrow when we get the top of the frame done - if all goes well, those top parts will straighten up all the verticals!
Posted by Nad on 19 February 2016 at 22:22
Today is the forth day building (not counting pouring the cement and waiting for it to dry). We made good progress in the first half of the day getting all the eight lower 45's and the two long 5.4 metre 5x8's along the sides at the top in place.

Things got a bit tricky in the afternoon though, the whole second half of the day was spent just getting the final two top 2.7 metre 8x5's on! It seems like all the pent up energy created by the cunning placement of all the other pieces to compensate for each other's bending was all focussed into these two final pieces! We had to use G-clamps to get the tops of the vertical L's lined up and then get them bolted, and one of the L-pairs were bent outwards with such force I needed to pull them together with fencing and a long metal pole (the trusty post hole borer) as a lever.

But we got them in place in the end, and the whole thing's looking reasonably square considering the state of the wood - it's hard to tell in the pictures due to the curvature of the lens!
Posted by Nad on 20 February 2016 at 23:28
Today the first thing we did was to get eight more 45's made up and positioned around the top of the frame to make it stronger for all the roof frame activity that will be the main focus for the next couple of days. Then the final part of the main frame was put into place, the big 12.5x5 across the middle which keeps the two middle verticals the right distance apart and takes a lot of the weight of the roof.

Then it was time to start the roof frame! Normally this would involve making a whole lot of so-called "scissors", but when we were staying in Pirenópolis I noticed they had used a slightly different method which I quite liked the look of, because it seemed like it would be less work and also uses the space more optimally.

The idea is to have a large solid piece all the way along the apex and then have just single pieces of 12.5x2.5 supported by this large piece. This large piece in our situation needs to be 7.4 metres long, 5.4 for the house and a metre extra at each end for the roof. Since our wood is only 5.4 metres long we decided to use two pieces of 3.7m and join them in the middle. We're also connecting the middle down to the other large piece the joins the two verticals which required a bit of dodgy "chainsaw art" :-)

This all resulted in the slightly strange looking state shown in the first photo below, three vertical pieces positioned ready to support the large apex frame pieces. We got just one of the 3.7m apex pieces in position first and then decided we better give it some strength by adding a few of the not-scissors pieces (whatever they're called), even though this large centre piece is very strong in a vertical direction, it relies on the other surrounding pieces for its strength in the other planes. These not-scissors pieces need to have bits cut out of them so they can sit nicely on the apex and sides, so we made a few getting the angle of the cuts a bit better each time, then when we had a pretty good one, we used it as a template to cut all the rest we'll be needing for that side of the house.
Posted by Nad on 21 February 2016 at 22:09
Today we first got the other 3.7 metre half of the thick 12.5x5 up and joined to make the main 7.4m roof support. And then we got all the roof frame done for the main house area. The whole rest of the day was spent getting the one metre extended bit one the west end done!

It was really tricky as it's up very high and the extension frame pieces are really heavy - but they need to be really strong since we wanted to avoid having to use ugly external 45's there, we assembled the extension bits as much as possible before putting them up, you can see one of these assembled bit in the middle photo below (they'll be bolted later after we get some more nuts!). The other photos show Beth cutting the notches in the frame pieces while I hammer them up.

At the end of day six, we had finished the west extension, so have to go through all that again tomorrow morning!
Posted by Nad on 22 February 2016 at 22:54
Today we finished off the extensions, and finished all the not-scassors then got the first two perlins on. We then did the door frame and window frames and got one window in place! The window might be slightly premature, but we saw some bugs had started eating them and decided they would be safer getting rained on than staying with all the bugs! We'll put some termite poison on them tomorrow.
Posted by Nad on 23 February 2016 at 22:00
Today is day 8, the first day of the second week. In the morning I put the second two windows in while Beth measured and cut the surrounding frame pieces. Then in the afternoon we finally got the last three perlins in place which means the frame is totally completed now and tomorrow we move on to the final phase - roofing panels and walls! As you can see by the dim light and the state of Beth collapsed in the corner, it was a long day and motivation's wearing thin - hopefully moving on to walls and roof tomorrow will get us fired up for the last little bit!
Posted by Nad on 24 February 2016 at 20:01
Today we only worked on the house in the morning and took the afternoon off because we had a meeting online to attend. But during the morning session we got most of the roof put on - we're leaving the roofing panels off of the extensions for now because we ran out of bolts, so we don't want to put too much weight on them while they're only nailed in place.

We installed the capping after the two sides were done by having me on top of the roof in the middle and Beth passing the capping pieces up in a bag on some string. Unfortunately the capping was a bit of a disaster :-( we decided to use the only type that the store had so that it could all be delivered in their truck, but this kind is a real pain and not very effective either! It's made of the same material as the panels and corrugated to fit it, and it comes in two separate parts that join in the middle, but the join isn't very good. We'll have to put silver tape over all the joins when we get back from New Zealand - or maybe we'll just rip them all off and use aluminium capping which works really well!
Still, the main reason for getting this little place built now is so we can get our power put on, so a few leaks isn't going to be a problem for that purpose. Here's what it looks like now:
Posted by Nad on 25 February 2016 at 22:09
Today we got the first wall done! This is an important milestone because it allows us to get a photo of the house looking complete as seen from the power pole. The company that will connect the power to our pole requires a house to be within forty metres of the pole and they need to see a photo of the pole and house before they'll book the job. So now using the second photo below, we can go to São Francisco de Paula and book them to come out and connect us! We'll also buy a whole bunch of nails and bolts so we can finish everything off properly. The last photo shows the power pole viewed through the window.
Posted by Nad on 29 February 2016 at 22:54
We've been taking it a bit easier over the last few days since we got to the most important milestone of being able to take a photo for the power company :-) In the last few days we've just slowly put all the walls on, and now all the left over wood is stored safely in the house so it will stay in good condition while we're away.

We'll probably hire a car before we leave so we can pick up a bunch of nails and bolts since we've had to ration nails a bit and couldn't put the roof over the extension without it being firmly bolted in place.

We also have to put on the "matajuntas" which cover the gaps between the wall boards, but we're going to let the wood dry out a lot first since it had gotten quite mouldy sitting out in the rain for a couple of weeks.
Posted by Nad on 05 March 2016 at 10:53
We made this cute lid for the well out of the off-cuts from the wall boards :-)
Posted by Nad on 14 June 2016 at 20:19
We finally arrived back at the land after our three month holiday in New Zealand! We stayed at Mum and Dad's place in Devonport and just spent time there to catch up with friends, family and spinach pies! We left a few days ago and after three planes, a bus and a hire car we've finally made it back!

We're always very nervous coming back to the land after a long while away as we never know what will be in store for us out here in the wilderness! Things weren't perfect when we arrived back, but not as bad as arriving back to a house burned down by lightning or sent off down the river by a flash flood!

The first thing we noticed when we got to the gate was that all the grass was still nice and short - that can only mean cows! There's no sign of any now, but there were cow pats all over the place, and when we got to the house everything was knocked over and the vege patch destroyed! They had snapped one of the corner fence posts and eaten everything except the lemon tree :-(
It probably looks worse than it actually is though since this is the first time we've arrived back in winter after a long time away, so all the bracken is dead and many other plants are without any leaves.
But anyway it's really nice to be back home again :-)
Oh and one more thing before I sign off....
Posted by Nad on 19 June 2016 at 20:21
You may remember our simple gambiarra washing machine from our first year on the land,
This idea has worked well for us, but we were starting to wonder if it may have something to do with the slightly sub-standard washing results get regularly, such as the following example...
So Beth thought it would be a good idea to get a "tanquinho" which is a very simple kind of washing machine that's basically just a tub with a motor to shake the clothes about and a timer. You just fill it up with soapy water manually, and it only needs to run for about five minutes, so it's no problem to use with the generator. It's a lot less work and is a perfect compliment for the spinner dryer we got last year.
Posted by Nad on 24 June 2016 at 20:14
We've all heard of tiny houses, but how about a tiny garage? Over the last couple of days I've been upgrading the trailer in it's capacity as a tool shed so that we could move them out of their temporary location in the house - after being there for over three years there was an extreme rolling pin risk associated with leaving them there!

Here's what the tools were like before and now:
And here's their new location:
Posted by Nad on 26 June 2016 at 21:47
We've always noticed another Lada Niva whenever we visit Canela, and last time we went there for supplies a couple of weeks ago we decided to stop and ask the owner if he'd be interested in, or knew of anybody who'd be interested in buying ours since it's just been sitting there for two years now.

It turns out that the owner of this other Niva, Riccardo, is a mechanic and he knows our neighbour Juca and said he'd be visiting him in a couple of weeks and could pop in and look at our Niva :-)

Well today was that day, and in late afternoon a whole bunch of them turned up, not only in the Niva, but another jeep and a "Gaiola" which is a car made up of all sorts of pieces of other cars and are not generally legal to drive on the roads.

The instructions Juca gave them to find us was to carry on until they were sure they had gone further than anyone could possibly live and then keep going!

We heard all their loud engines stop in the field when they arrived, so I went out to tell them they should carry on through the forest. They thought I was kidding and I had to run ahead and wave for them to follow me!

A bunch of them adjusted various bits and replaced the coil for about twenty minutes, and then vrooom! she started! A bit smoky at first, but it cleared up after a while. Unfortunately they couldn't get it to actually drive, as they said they'd need to return with a few more parts, but apart from having a very old engine it's actually in pretty good shape :-)

They're going to come back in a few weeks for lunch and more repairs, and then I think we may have to let them take Nivinha away to a better home with someone who takes proper care of her, but we'll be very sad to see her go :-(
Posted by Nad on 29 June 2016 at 21:22
The job we've been doing over the last couple of days is to put a proper sink in the kitchen bench and add some shelves under it to the right and then make some sliding doors to cover the shelves on the right hand wall. Everything was just too disorganised and noisy, and although it's still pretty rough by city standards, it's definitely improved things a lot. Here's a photo of how it was and how it is now.
Posted by Nad on 03 July 2016 at 13:48
Yesterday I was putting in a new fence post when my finger got pulverised with the sledge hammer somehow!

I knew it was going to hurt so I clasped by damaged hand with the other one and was horrified to feel the end of the finger moving about loosely in the end of the glove!

I ran back to the house, and on the way I was imagining the damage, it felt like half my finger was hanging off and I didn't know what state the other fingers were in either. And worst of all if no neighbours were home I may have had to suffer here in pain and loose the fingers completely. For the first time I was really scared of how isolated we are :-(

When I got back to the house I took the glove off carefully and found that it wasn't as bad as I had imagined, it was only one finger seriously damaged, and only at the very end. The ring finger on my right hand was a real mess at the end and snapped about where the nail starts.

Fortunately Vladimir, our closest neighbour, was home and drove us to the hospital in São Francisco about an hour's drive away. They didn't have a bone specialist there though so they just bandaged it up better and put anaesthetic in it since it was really painful by then, and sent us on our way to Canela about half an hour away.

The bone guy at Canela hospital took the nail off and stitched it up and reckons I won't have to lose the end of the finger. He said a new nail should grow back too, but I have to see him again Monday to know for sure what the situation is.

I'm Not really sure how my finger was in the way, but it's a powerful lesson about how we have to be much more careful, and account for the fact that the brain's not working properly after doing a lot of hard physical work! It's also a lesson about how we really do need a working car out here, because a real emergency could happen at any time, and it may well be the difference between life and death :-/
Posted by Nad on 07 July 2016 at 23:31
We adopted Winston Churchill's policy, "never let a good crisis go to waste", by taking advantage of the need to hire a car and visit the doctor over the last few days, to buy some more supplies. Most importantly was a huge bottle of gherkins, and a few other bits and bobs such as a new solar battery :-)
Posted by Nad on 10 July 2016 at 19:02
We've been noticing ever since the recent tower upgrade that we'd occasionally receive TXT messages on our cell phone in the house, so we decided to stop being so antisocial and get a phone! Here in Brazil you can get cell phones that look like ordinary land-line phones, but they can run off mains or an internal battery and they have better reception than a normal cell phone. These phones also allow connection of an external antenna, so we installed our old net antenna on top of the house so we should have a reasonably consistent phone connection!
Due to our power constraints, the phone won't be permanently running though, so we'll only be calling out on it usually and not receiving calls unless it's a nice clear day :-)
Posted by Nad on 11 July 2016 at 20:41
It was a horrible stormy day today with torrential rain and lots of thunder and lightning all day and last night. We were pleased to see that there were no leaks even after hours of very heavy rain and a friendly visit from the river :-)

Beth decided that since she couldn't do any work on the new vege patch that we'd do some interior decorating instead. So the first job was to connect up our new sink with a pipe so we could actually use it instead of just looking at it! We have a plug that only allows liquid to pass through and that goes through a PVC pipe straight across the lawn into the swamp - we'll bury the pipe soon so it's tidier.

The next job was to put up a curtain to hide the messy content in the loft shelf. We've also put the bed the other way round and put a book shelf up along the edge of the loft with some material over it as a divider so nobody accidentally rolls out of bed onto the floor below!
Posted by Nad on 19 July 2016 at 16:21
I think we've finished our new feng shui improvements which we've been chipping away at since we got back to the land. Here's a few photos so you can see things from all the angles.

I've made a stand for my tablet to make the desk tidier and to prevent me from having to be hunched over to see the screen when I work, and Beth's varnished some old wooden crates to use for the vegetables under the kitchen bench and the shoes next to her desk. We've also finally felt like the place is in a tidy enough state that we deserve to have our nice cosy rug in the lounge area :-)

I've added these latest photos the our house article to bring it up to date with the current state.
Posted by Nad on 24 July 2016 at 20:13
We went to the hospital in Canela a few days ago to get the stitches taken out, and the doc said it's healing very well. After the stitches were removed he gave me a piece metal with foam on one side which is used to stop the finger from bending so the bone can start to heal.

The bright side of being out of commission is that I've had lots of time to make a good start on my book and I'm really getting in to the flow now. Also it's led to our neighbour Vladimir having to take over the fence repair and he's completely remade it instead of just fixing what was there, so we have a really nice solid fence all the way along that side now!

Beth's had to take over a lot of my jobs now, but there's a bright side to that as well which is that she's learning to use a lot of tools that she was a bit timid of before even though she wanted to be more independent. She's been using the post-hole borer in the field and chopping up fire wood with the chainsaw and axe :-)
Posted by Nad on 31 July 2016 at 21:19
This weekend was all about cars. First very early on Saturday morning at 6:40am we set off on the two and a half hour walk along the Vaca Velha track to catch the 9am bus to Gramado, and then from there the 10:30am bus to Porto Alegre to pick up the car that Beth's parents kindly sent down for us from Brasília! After the scare a few weeks back getting my finger smashed and realising how bad it could have been if there was nobody around to take me to the hospital, we started thinking that it was pretty risky here without a working car.
Then on Sunday, I decided it would be a good idea to give Nivinha a good clean since she had a few spots of dirt on her, and our new mechanic friends were due to arrive for lunch and I wasn't sure if they might want to take her back with them. Here's a photo of the cleaning job half way through, if you look carefully you can see one side is clean and the other dirty.
Sure enough we heard the rumble of their 4x4's arriving soon after, and they promptly set up a Churrasco (Brazilian barbeque), cracked open some beers and got to work. They really liked the new pimenta sauce I found in Nova Petropolis on the way back from Porto Alegre :-)
It wasn't long before the smell of the meat on the fire attracted an uninvited guest! It was probably a dog that belonged to someone hunting nearby as we didn't recognise him and could hear the occasional gunshot in the forest nearby.
After half an hour or so we heard the engine going and soon after that Nivinha was on the move for the first time in two years! A couple of the mechanics took her for a drive through the forest and along some nearby trails to get a feel for her condition, and seemed quite happy with things when they returned.
And then suddenly it was all over, they packed up all the churrasco, got in their cars, said their goodbyes and dissappeared into the sunset with our Nivinha, leaving nothing but half a bag of charcoal and a roll of toilet paper :-(
Posted by Nad on 03 August 2016 at 17:36
I've recently discovered the horrifying fact that there are some places in the world where you can't buy a gherkin fork - that can be a real problem if you just bought a huge jar of gherkins!

But not to worry, you can chop the outside prongs off a normal fork, file it down nicely and bend the remaining two outwards a bit at the ends - works perfectly and looks just like a bought one :-)
Posted by Nad on 04 August 2016 at 15:26
We've checked every hardware store we could find in five different cities, but never found a good strong garden fork to loosen our horrible compacted soil with. So when we visited New Zealand we got a good strong Stanley fork which is a brand renowned for excellent quality and workmanship.

We carted the thing all the way back here on three planes ad numerous taxis and buses, and finally started using it a week ago! It was really good for a while, but after a few sessions it became clear that even the best fork from the west wasn't good enough to handle our situation out here :-(
It looks like we're going to have to find or make a proper broadfork which is made to be able to handle the full body weight forcing it through compact soil even if it's full of stones. The main differences are that it's wider so you can do more with each pull, it has two handles so you can stand in the middle to use the full weight and momentum of your body, and its prongs are very wide in the direction needed to resist the force of the earth against it, but narrow horizontally so it cuts through easily.
Posted by Nad on 27 August 2016 at 19:19
We really needed a good tall ladder when we first built the house, and one of our local hardware stores had two that could go up to seven metres high! One of them was a wooden one for R$300 and the other an aluminium one for R$600. I really wanted the aluminium one, but I couldn't explain exactly why so Beth decided on the cheaper wooden one.

But something reminded me why aluminium ones are so much better.... what was it again? Oh that's right, after Beth got crushed underneath it because it's so damn heavy that it takes a team of labour workers to move it!
No just joking! Here she is with the pear tree, and they're both doing really well :-)

But seriously, the wooden one is so heavy that it really is an accident waiting for a place to happen, so last time we went to Canela we decided to get the aluminium one! We also had to get a roof-rack put on so we could carry it :-)
Posted by Nad on 12 September 2016 at 21:24
We've just finished the new little garage in the field for the new car today. We've been chipping away at it over the last few weeks.

Some planning would have been a good idea though because we forgot to make it wide enough for the car doors to open!

Still, it does the trick even though it's a bit of a squeeze :-)

But we're already thinking of other uses for it now - Beth's making use of the different micro-climates it provides to plant different kinds of trees and vegetables on different sides of it, and I'm thinking of putting a work bench in there so it can be my workshop. We could then make it five metres longer with the new part a metre wider for the car.
Posted by Nad on 15 September 2016 at 19:36
You might remember my post a year or so ago entitled Too hot to handle! about my home made red Habanero sauce. Beth's Dad's just sent down a bunch more for us in the mail from his tree so I can make some more soon - I'll wear gloves this time!

When we went to Nova Petropolis a few weeks ago I found a commercial one which was pretty hot and had a nice flavour, but yesterday when we went to Caxias I found a new one which you can see in the right-hand picture below (my home-made one is on the left, and the one from Nova Petropolis in the middle). It's quite innocent-looking and it's only because I happened to recognise the name "Bhut Jolokia", which is one of the hottest kinds of chilli pepper in the world, that I even thought to give it a try.

It turns out it's the hottest sauce I've ever found from a shop before, it's at least as hot as the one I made myself, but has a good flavour as well! You can do a search for "Bhut Jolokia" on YouTube to see what happens when people eat them pure, but it usually goes something like this:
Posted by Nad on 21 September 2016 at 12:38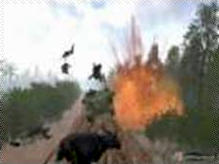 We got up today to have our breakfast outside in the sun, and there were a bunch of cows there!!!

I chased them out and they went back the way they'd come in - this time they'd pushed their way through the south-eastern gate.

They've destroyed the entire new vege patch set up that we'd been working on to replace the last vege patch they destroyed!

Beth was just starting to get some hope and inspiration back about planting and they've succeeded in destroying that too :-(

She wants to get a gun to shoot them whenever they enter, and I feel like stopping being a vegetarian just so I can feel like I'm making a daily contribution to their suffering!!!

It's a constant battle trying to keep those hideous bloated monstrosities off the land. It looks like we really need to put another fence around the planted area since the main fence is so long that they're likely to regularly find a problem along it somewhere no matter how well we try and maintain it.
Posted by Nad on 09 October 2016 at 11:23
We thought we were going to have a good crop of German raspberries this year because the cutting we planted that we got from Arca Verde really took off! But then the leaf-cutter ants found them :-(

They completely decimated over half of them in a couple of days (along with the lemon tree). We found that PVC pipes with habanero oil on the sides stopped them so I protected the lemon tree and the most healthy raspberries, but there are too many stalks to protect them all, and they're a lot of work too maintain with oil, so we had to let the ants have the rest :-(

Then a few days ago we had some unexpected visitors - Maneco's neighbours decided to come and see our place and introduce themselves which was nice :-) Just as they were leaving one of them noticed the PVC pipes and asked if we had ant trouble - he told us that ants don't like to cross sheep wool and to just wrap a piece around the bottom of each plant and it will last for ages with no maintenance required!

So we went to Ziza's the next day to collect a bunch of old wool off the ground and gave it a try. It's true that they really don't like it, but they're incredibly persistent and still crossed over it. But I found that it's the small hairs in the wool that cause them trouble and that if you part the wool a lot to fluff it up it becomes too difficult for them to traverse. It seems to be working so far, I can see most of them carrying clover again now :-)
The first photo shows the pipes, and you can also see the wool at the base of the un-piped ones. Notice how much leaves the piped raspberry on the right has? That's how they all were before the ants got them!
The second photo shows a close up of the wool around the base of a raspberry, and the final one shows an ant that crossed over before I had started puffing them up more - even un-puffed you can see all the tiny strands getting in its way. Remember you can click on the pictures to see a large version.
Posted by Nad on 17 October 2016 at 19:58
Finally had a bit of rain today, but Beth doesn't let that get in the way of her morning stroll! The plants are all looking very happy as well (the ones we can see at least) This is the view from our window this morning, and the state of the road to our house through the forest!
Posted by Nad on 03 November 2016 at 21:22
We went to São Francisco de Paula for a couple of days to visit our friends at Arca Verde. It was a nice couple of days, and some of them may come to visit us here some time now that we have a car. On the way there we did a little bit of exploring around the back streets looking at what kinds of places are for sale when all of a sudden we came across a "bitcoin accepted" sign! Unfortunately the guy wasn't there, but we'll pop in again next time we go there. It would be really awesome to find some local bitcoin contacts, and it's really good to see it making an appearance here :-)
Posted by Nad on 10 November 2016 at 15:07
Out in the country you need to be able to make a good tight fence - it's similar to how people who like camping need to know how to make a good fire. After the great cow attack of 2016 I started making a secondary fence around the area where our planting operation is situated along the northern border to the land. Beth wanted this fence to be a really high quality tight five wire fence. So we bought 1500m of wire and I got started with the western side which is a short 50m stretch.

I put the master posts (the ones on the end that need to bare the full force of wires on only one side, or on uneven angles) about half a metre deep into the ground and hammered the dirt in around the post with the sledge hammer.

But when it came time to tighten up the wires with the new wire-tightening tool we bought last month the problems began. The master posts didn't remain vertical as the force of even one wire being tightened up was easily able to move the posts in their holes.

So re-bored the holes, put the masters in again, and this time tried puttint another 8x8cm eucalyptus post at 45° sledge-hammered in to the ground at one end and lodged into a groove cut into the master at the other end.

This time I was able to tighten all the wires, but after I tightened the lowest one, the top one was loose again, so I tightened that one up some more, but the force then became too much again and the 45 was pushed further into the ground allowing the master to lean again!

So I re-bored the hole again! This time I hammered a eucalyptus peg 30cm into the ground with a groove cut into it to prevent the 45 from moving. This worked a lot better, but when I started to really tighten the wires up a lot, the forces caused the 45 to lift the master out of the ground as shown in the photo below. The purple arrow shows the direction of the force the wire tightening caused due to the 45.
After this I decided I'd better do some research. First I looked around at the other really tight fences and I found that there's a complicated looking configuration that all the good fences have in common. I figured out how it distributed the forces, and I asked the neighbour Devalso about how to do it properly too. He said that this configuration is called a Contra Mestre (Counter Master) and it's much stronger than using a 45° brace. He also said that the master posts go a full metre into the ground and have their hole filled with stones that are hammered down using a heavy iron pole with a thick flat plate on the end. Here's a picture of a contra mestre.
In this photo the fat pole on the left is the master, and the smaller pole on the right is the counter master (usually another fat master is used here too, but it's considered to be over-kill). The horizontal brace connects the two so that as the tight wires pull the top of the master toward the right, the force is transferred to the counter master which also tries to move toward the right. But the counter master can't move that way because its top is connected by very strong tight wire to the bottom of the master. This wire is at 45° and plays a similar role to a 45° brace but is in reverse - it resists a pulling force instead of a pushing force. This is superior because the forces are mainly distributed in a horizontal direction with only very little upward force on the master.
Devalso's going to come and show me the correct process for making this configuration next week, and in return I'm going to help him design a house for his sheep because he hasn't done any building before, but I'm quite comfortable in that area now after building two small houses and a garage :-)
Posted by Nad on 11 November 2016 at 21:25
Today is 11/11/16, exactly five years since we left New Zealand!

We celebrated with a bottle of our Heles beer which you can only get from Fassbier, our favourite bar in Caxias. It's a tiny semi-private bar run by a German guy who never realises that I'm not speaking German when I say "Euzen falazen ze alemaozen" (Izen speakenzen ze Germanzen)! We're drinking the beer out of jars because we've noticed that it's all the fashion now in the west, all the most expensive smoothies are served in jars like this nowadays :-) Beth made some Brazilian Bolinhos to go with the beer which is deep fried rice cakes :-)

Here's a picture from our celebration, and next to it a picture from Java House in Devonport on the day we left five years ago, it's a receipt for my last coffee in New Zealand which is dated at 11:11 on 11/11/11.
Posted by Nad on 15 November 2016 at 19:30
Yesterday when we were meditating there was a sudden crashing collapsing sound nearby. At first we thought it was a tree falling, but then realised that the fire wood storage house had collapsed!
Then after the meditation I went in to start some work, but the net wasn't working - and it wasn't Vivo's fault this time because I couldn't reach the router at the top of the hill. It was working fine from the mid-point in the field, which meant that the segment through the swamp had failed - not unexpected really since it had suffered a lot of damage in the giant swamp rat attack of 2014. I had done a fairly thorough repair job on it, but it had been damaged in so many places that I didn't expect it would last very long. Rather than try and find the problem and fix it again, I decided we should head to Caxias and get new pipe and wires. We picked up a 300m box of LAN cable (R$350), a 100m of power cable (R$114) and a 100m of PVC pipe (R$150) - we got 3/4" this time instead of 1/2" since it had been so difficult to get the cables through last time.
The job went pretty smoothly this time, we had the fishing line through in less than half an hour and the wires pulled through pretty quickly too without any trouble like the fishing line snapping or disconnecting from the cables. I haven't buried the 10 metres closest to the house where the river goes past when it floods yet, I'll probably do that in the next day or so after fixing the wood storage.
I got a photo of the monument when we were in Caxias this time. We were standing at the base of this monument when we took these other two photos (middle and right below), the middle photo was taken the first time we went to Caxias with Candido when we first bought the land, and the right one we took a couple of years ago on the way back from a cycle trip with Eduardo.
Another interesting thing we saw was these recycling rubbish collectors - they usually have a horse or hand drawn cart, but these guys had done some major gambiarra on an old car. They've sawn off the roof and put an extra story on it for a guy to stand in and put the rubbish in below him! That contraption would be soooo illegal in the west! :-D
Posted by Nad on 02 December 2016 at 19:38
We collected our new mulcher today from a small town just out of Caxias do Sul called Farroupilha which turned out not to be so small - it looks like it's almost as big as Caxias! But Wikipedia reckons its population is only about 70 thousand, whereas Caxias is about half a million - still, a lot bigger than we were expecting. We chose the store in Farroupilha because they were R$400 cheaper than the next best offer in Caxias.

I got the thing assembled with only a couple of minor problems - I had to bash a couple of bolts with a hammer to get them to line up with the holes and then I had three nuts and bolts left over at the end - but I figured they were probably just spares and the manual was all written in Chinese or Portuguese or something...

It was a bit of a drama at first because we got it started no problem, but as soon as we started pushing some serious foliage in there the engine stalled! This thing's supposed to have the strength of seven horses!!! Luckily we realised after a few minutes of cursing dodgy Chinese manufacturing practices, that we'd forgotten to turn the gas inlet valve to open, so it had been operating on the gas already in the mechanism. After adjusting that, starting it again, and giving it a few seconds to get itself together after having its protocols violated, it sounded a lot better and started mashing stuff up really well :-)
Posted by Nad on 05 December 2016 at 19:27
The other day I was in the hammock eating a hamburger when I noticed some movement on the ground under me. It was Leelee eating the bits of bread that were falling on the ground. This all seemed ok, but then he suddenly jumped up onto the hammock and tried to eat my leg!!! I managed to move the side of the hammock so he fell off onto the ground - he wasn't behaving aggressively, it was more like he just didn't understand which things could be considered as food and which couldn't. Today he's visiting again and hanging around on the door mat - here he is trying to get inside through the mosquito net :-/
Posted by Nad on 24 December 2016 at 13:02
We're really pleased that we took the time to save a couple of the raspberries from the ant attacks because they've been amazingly productive. It turned out the cotton wool wasn't very effective (and neither was tin foil which was another method we'd been told stopped them), but the PVC pipes reduced the majority of them, and putting habanero sauce at the top of the pipes when they get particularly crazy works very well. In the last week or so these two plants have been giving us a whole punnet of raspberries every day!
We've found that putting a mixture of yeast and sugar in the path of the ants seems to work very well too, they take some of it back to the nest and the yeast bacteria competes with the fungus that they use all the leaves to produce for food. They have no way to get rid of the bacteria once it starts to grow and have no choice but to close down the whole nest and start another one somewhere else. One big nest about a cubic metre in size has recently been abandoned, but it's important to keep putting the mixture around otherwise the new nest will go through a very productive phase as it grows in size.
It's not a very harmonious solution, but until we figure out a better way it's going to have to do. We've been told that they only go crazy and completely destroy plants like this when there's something out of balance in the environment, so maybe as we make the land more fertile and productive it will help fix the balance and we can co-exist with the ants in harmony - but for now the yeast-nuke stays.
Posted by Nad on 27 December 2016 at 15:56
Um documentário lindo sobre o árvore Araucária.



Posted by Nad on 29 December 2016 at 13:05
Ontem foi aniversário da Beth! Nós tivemos um dia simples sem viajar para qualquer lugar, foi perfeito :-)

Beth cozinhou um bolo com coco, chocolate e framboesa em cima.